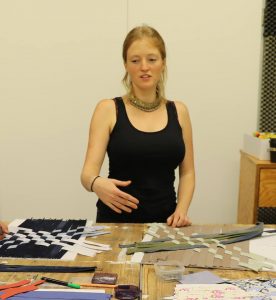 Kivy Theunen invites you  to discover batik, an ancient chinese method of textile printing based on wax. The wax is applied to the tissue in order to create a basin in which the shapes of flowers, birds, insects or abstract forms will appear at the moment of coloring. Until today, this method is still applied and passed on to the younger generations by the Miao and Zhuang minorities. A vegetarian lunch is served and included in the price. The course is taught in French.
PROGRAM OF THE WORKSHOP :
• Looking for shapes and designs in documentation
• Composition of the chosen elements
• Initial design of the motive
• Application of the wax onto the design
• Coloring of the tissue with indigo
• Washing and finalizing the batik
MATERIAL :
You are requested to bring a pillow cover, table napkin, T-shirt or other material in white cotton to work on. Kindly also bring a cardboard or plastic sheet to protect the inside to avoid the wax from penetrating the material entirely throughout.
(If you are unable to bring your own material, we will provide you with pieces of cloth that you can experiment with. In that case however, you won't have your own masterwork to take home with you after the workshop.)
You are strongly advised to wear old clothes or an apron in order to protect your clothes.