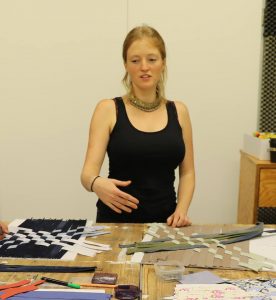 Kivy Theunen invites you to discover the batik technique, an ancient wax resists dyeing method from China. Once the fabric is painted with wax designs, it is placed in a dye bath where only the areas with no wax are dyed. Patterns of flowers, birds, insects or abstract forms will appear at the moment of coloring. Until today, this method is still applied and passed on to the younger generations by the Miao and Zhuang minorities. A vegetarian lunch is served and included in the price. The course is taught in French.
PROGRAM OF THE WORKSHOP :
• Patterns research
• Composition and sketch
• Application of the wax onto the cloth
• Dying process with indigo
• Finalization
MATERIAL :
We will provide each participant with coton cloth, which you can bring back home.
You can also bring your own piece of white coton to customize (pillow case, table napkin, panties,…). In that case, please wash it before in the washing machine.
You are strongly advised to wear old clothes or an apron in order to protect your clothes.