First Confucius Institute founded in Belgium according to the agreement signed in March 2005 between the China National Office for Teaching Chinese as a Foreign Language (NOTCFL) and Belgium-China Association, the Confucius institute in Brussels was officially inaugurated in September 2006 at the Egmont Palace, the headquarters of the Ministry of Foreign Affairs in Belgium, attended by the Chine Vice Premier Zeng Peiyan and Belgian Deputy Prime Minister M. Reynders.
The Confucius Institute in Brussels is an integral part of a wide international broadcast and promotion network of Chinese language and culture, supported by Chinese authorities. The activities are based on the existing program of China Academy of Belgium-China Association, a reputable school, with more than 20 years of experience in the teaching of Chinese language and culture in Belgium.
Its Chinese partner is the Beijing Foreign Studies University, famous and renowned for the teaching of the world most important languages, with 42 foreign languages and Chinese as a foreign language, besides many specialities.
The aim of the Institute is:
– to promote Chinese language and culture to the Belgian and European public ;
– to strengthen the friendly Sino-Belgian and Sino-European relationship ;
– to develop multicultural exchanges ;
– to contribute to create a pacific and harmonious world.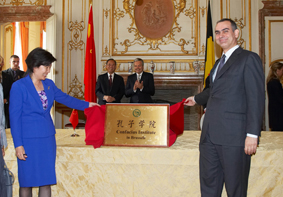 The primary mission, focused on two main areas (the teaching of Chinese language to foreign people and the broadcast of Chinese culture), is to organize and propose Chinese courses, lectures on Chinese culture, language and culture trainings in China, the training of Chinese language teachers, an educational material and information in all forms on the Chinese world.